UHF RFID Tire Tag, one of the RFID tags, is designed for vehicle tire management and tracking. This tag is sealed with the same base material as the tire. It can withstand the high temperature and pressure inside the tire.,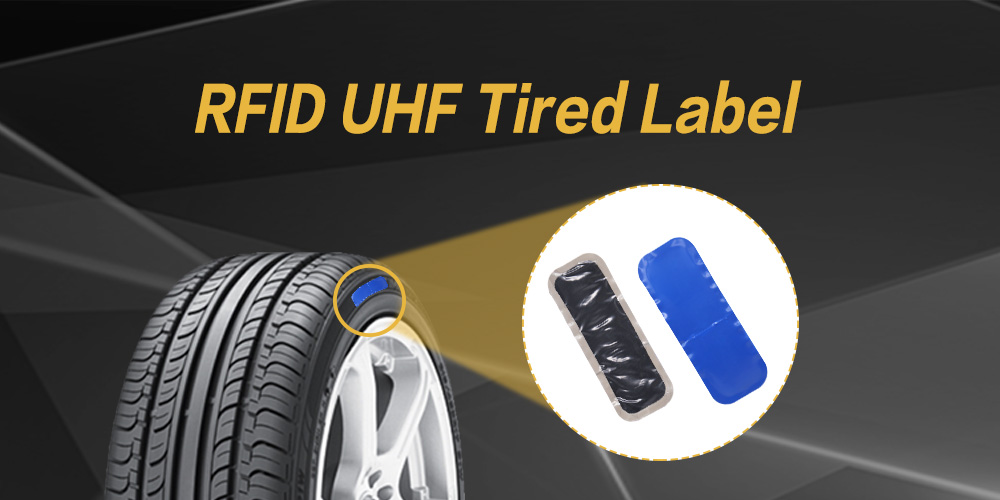 DESCRIPTION
Why install RFID tags on tires? Many countries have introduced legal provisions on vehicle tires that must be labeled with RFID tags. For example, the United States, Japan, South Korea and some European countries.
RFID Tire Tag can store lots of data about the tire, such as tire fuel efficiency, rolling friction, and noise, etc. It makes it possible that countries know if tires meet national standards by tracking tires' performance.
BENEFITS
Convenient to Management. Installing an RFID tire tag, each tire has an identification number, same as id card. So even the tire leaves the factory, when it is broken, it can also be recycled and controlled.
Efficient and Fast. Using an RFID read-write device, users can scan dozens of tire at once to achieve batch acceptance.
Prevent Theft. It is not easy to be illegal to steal, because tires with cryptographic operations.
APPLICATIONS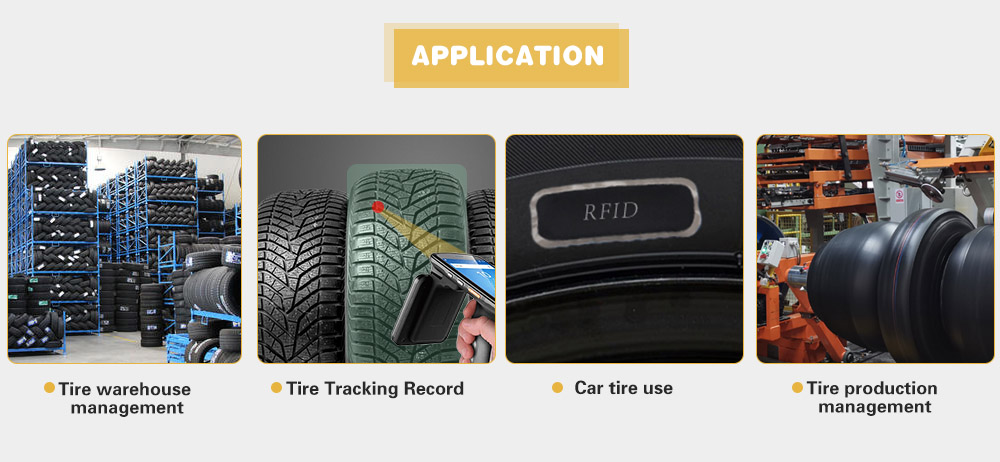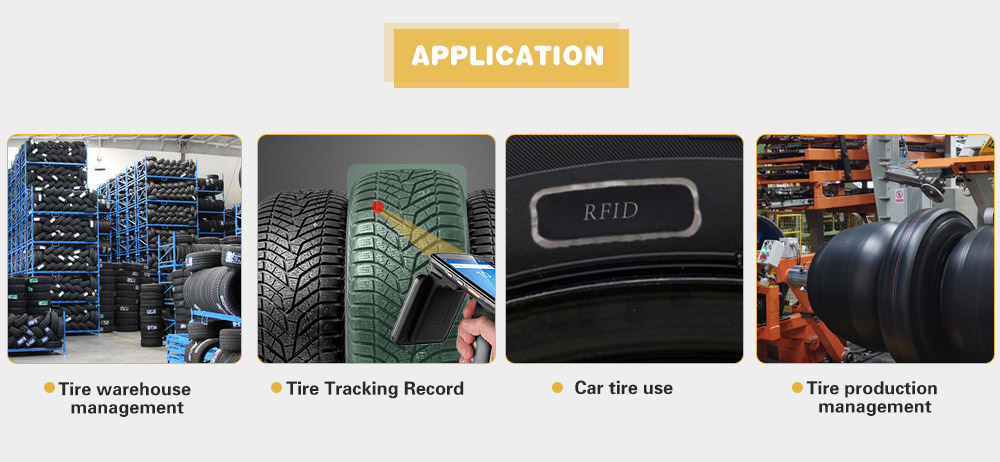 Tire Tracking and Management
Transportation Management
Annual Inspection Management
Racing Management
Other Application
HOW TO USE
Clean: Must be positioned near the bead position on the outer wall of the tire and not exceed 6 cm from the bead. Then wash with detergent if there are sundry things that will affect the viscosity effect.
Trace: Attach the RFID tag to the selected position, and then use a white pen to mark around the tag. This is mainly to determine the polishing area.
Polishing: Use the automatic rotating sander to polish the selected position, make it become rough. And then do some simple cleaning.
Paste: Use special tire glue to stick the tire label in the polishing area. Recommend vulcanized glue for installation.
Parameters
| | |
| --- | --- |
| Item | RFID Tire Tag |
| Material | Rubber |
| Chip | Alien H3 |
| Frequency | 860-960Mhz |
| Protocol | ISO18000-6C, EPC C1 GEN2 |
| Color | Blue and black |
| Size | 95*35*2.7mm |
| Memory | Depend on chip |
| Reading distance | 0-6cm |
| Write Endurance | 100000 times |
| Working Temperature | -25°C to 65°C |
| Data Retention Time | 10 years |
| Samples | Free samples are available upon request |